The Bergen County Board of Social Services is open to the public with limited services.  limited service means that we will only see clients who wish to apply for TANF,  General Assistance, Emergency Assistance or need replacement EBT cards.
Waiting times may be extended and we therefore continue to encourage all applicants to apply and conduct all business online.
All visitors entering the facility will be required to follow the CDC protocol and agency guidelines for COVID-19.  A properly worn mask and social distancing will be required of all visitors.
---
To Apply On-line
You may complete an application on-line for most programs by clicking on the appropriate link below:
To Apply In-Person
The Agency is now open with limited services to the public.
We strongly encourage the use of on-line applications using the links above. If you come to our office to apply, you can complete a paper application and drop it in the mailbox provided at the front of the building.
To Report Changes
How to contact us to report changes: Report Changes
To Apply at Outreach
The Bergen County Board of Social Services is altering its Outreach Schedule in response to the current Health Emergency.  If you wish to apply for our assistance programs, please follow the links above, or if you wish to have a paper application sent to you , please call 201-368-4200.
---
Join the Bergen County Board of Social Services on June 25th from 9AM-12PM at the Overpeck County Park Amphitheater for the Inaugural Bergen County Elder Abuse Awareness Walk! Come together and help strengthen our community through outreach and education for the dignity and safety of older adults in Bergen County; we all have older adults in our lives, whether they are family, friends or neighbors – and it is up to all of us to address and prevent elder abuse in our community.
Register for the Walk at:  https://www.eventbrite.com/e/inaugural-bergen-county-elder-abuse-awareness-walk-tickets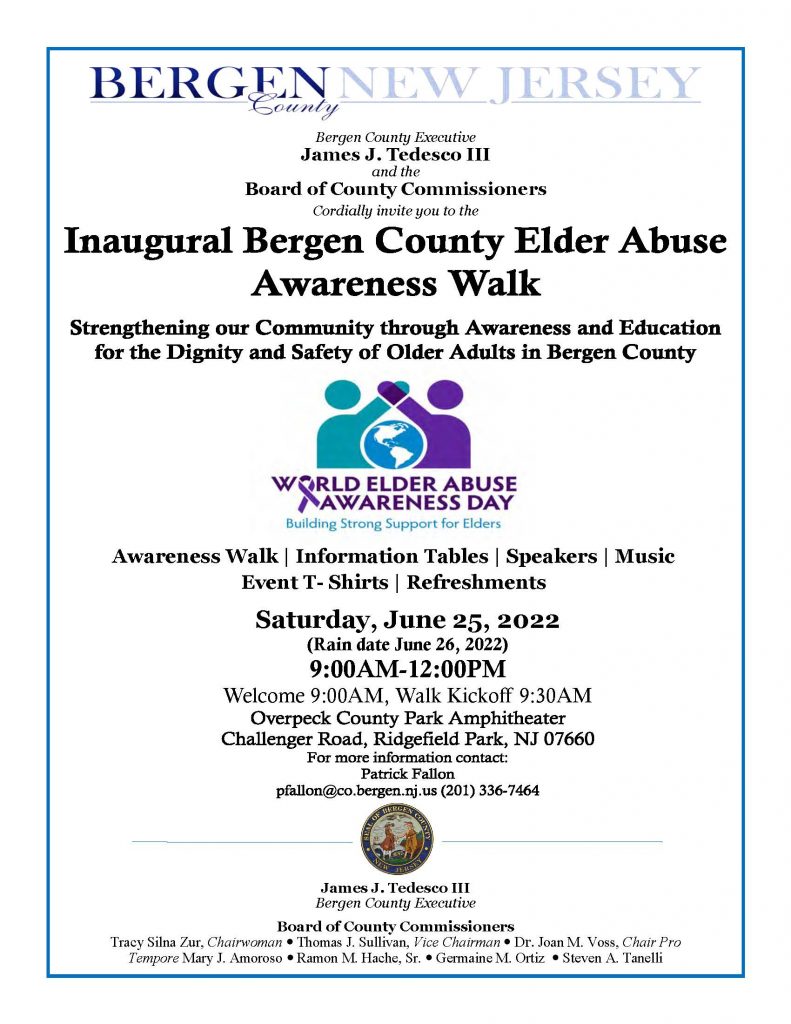 ---
Bergen County Emergency Rental Relief Program
Click on a flyer below for more information:
Emergency Rental Relief      Alquiler de Emergencia    긴급 대여
---

Bergen County Homeless Family Services
HEARTS – Housing, Emergency Shelter, Advocacy Resources, and Tools for Self-Sufficiency
---
FOR MORE INFORMATION Visit:  www.ChildCareNJ.gov
PARA MÁS INFORMACIÓN Visite:  www.ChildCareNJ.gov
---
Pandemic EBT Benefits (P-EBT)
P-EBT benefits are Food Assistance benefits issued to the parents of children enrolled in the Federal Free/Reduced School Lunch program. Active SNAP recipients receive these benefits on their current EBT card.  Those not enrolled in SNAP receive a P-EBT benefit card in the mail.  More information about this program can be found here, https://www.nj.gov/humanservices/njsnap/pebt.shtml.
If you have lost your P-EBT card and need it replaced, you may contact us at 201-368-4200 to request a replacement card.

---